Catégorie nulle
Bouton Gal diamant
nul
Coté

4,1

sur

5

par

9

les évaluateurs.
Coté

4

sur

5
par
crownoflaurel
Very Satisfied
I purchased 8 of these to use on a vintage dresser and they've been brilliant in every way imaginable. They look great against the white painted drawers and play well with the scroll decoration on the front. Not too fussy or glitzy, but just sparkly enough when they catch the light. Functionally, they are very easy to hold on to; they have a nice weight and the shape fits perfectly into the palm of your hand when you grab one. Because of this, it's actually made my dresser easier to use because the drawers lack guides and can get stuck. Now I can grab hold comfortably & firmly to pull out a drawer. I've had very little issue with the quality of the knobs. I dealt with the excess length of the bolt by using 1 cm brass spacers from the old knobs (If I could find similar ones online, I'd share, cause I know this is a frequent problem with Anthro's knobs). There was only one knob where if I used the spacer, the bolt was stripped and the nut wouldn't tighten. So I didn't use the spacer, was able to tighten it up, and trimmed the excess with bolt-cutters. Not exactly pretty, but now I'm not afraid I'll snag any clothes.
17 octobre 2011
Coté

4

sur

5
par
ILOV3ANTHRO
I installed a full set of these knobs in my kitchen a year ago. They've held up well and look great. My only complaint it that the ends poke out the back side of the cabinet doors and snag my sweaters when I reach inside to grab something. I still need to think of a solution for that.
10 août 2010
Coté

5

sur

5
par
Blooming
Pretty, but flawed
I love these knobs. Unfortunately, two of the 8 I ordered arrived stripped. And, I couldn't finish my project as expected. I will be happy when I have working replacements.
13 décembre 2009
ÉTAIN
Serrer avec précaution
Aucune quincaillerie supplémentaire requise
Verre, laiton, étain
Diamètre de 1,5 po
projection de 1,5 po
Le boulon de 1,5 po peut être scié au format voulu
Importée
N° de style : 670519
Verre transparent à facettes aux étincelles de diamant.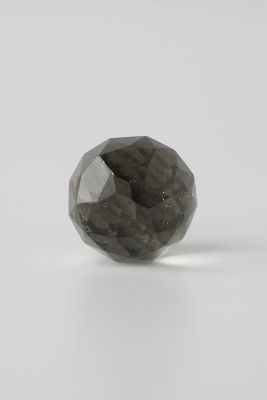 -->