Catégorie nulle
Couverts Verdures de pissenlits
nul
Coté

4,8

sur

5

 par

76

les évaluateurs.
Coté

5

sur

5
 par
Pursaholic
sturdy and beautiful
I just received these today and think they are gorgeous! I purchased 6 for a complete set and the etching is done nicely. It's stainless steel so I'll see how it looks after a few washings. The knife is etched on both sides, but the others are only on the front. They come nicely packed in a plastic holder.
9 janvier 2012
Coté

5

sur

5
 par
badmissh
Consistently outstanding
I first found this flatware when I lived temporarily in Los Angeles for work a few years ago -- needed to furnish my little bungalow and sprung for 4 settings of this flatware. Years later, back home in Chicago, I just ordered 4 more in order to make sure I don't run out when guests come! The quality on this set is amazing. Heavy stainless with a great weight to it and all the pieces are perfectly sized/shaped. Not only that, but years later there's not a scratch on them! Kind of magical considering they've endured two moves, handwashing by my boyfriend who loves the scrubby side of the sponge, and a lot of dining use. So thrilled to find this set again!
17 janvier 2011
Coté

5

sur

5
 par
anthroKimber
beautiful
i've had this flatware for about a year and i love it. its great quality (and never bends when im digging into frozen ice cream with one of my pretty spoons!) and the etched design is beautiful. even after a year and almost daily washing i have no rust spots. the directions for the flatware said not to use detergents with lemon in them because it damages stainless steel, so i havent. after a year they do have some very tiny streaky scratches (i think it is my very old, poor-quality washing machine's fault), but they are still beautiful and shiny! i assume this is normal wear that you would see with any flatware. even my husband loves them, and he rarely comments on anything.
4 août 2009
ARGENTÉ
Ensemble de cinq morceaux
Acier inoxydable 18/8
Va au lave-vaisselle
Importée
N° de style : 78110
Gravé au laser avec des tiges bourgeonnantes rappelant votre cour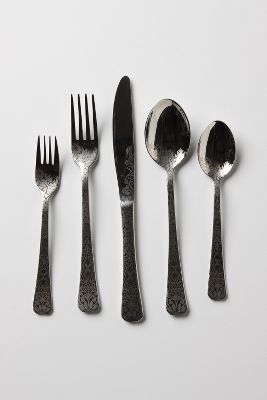 -->