Catégorie nulle
Serviettes fleurs perpétuelles
nul
Coté

4,4

sur

5

par

110

les évaluateurs.
Coté

4

sur

5
par
glassesdani
Pretty towels
I searched high and low for decorative towels that would still be fluffy and absorbent, and I admit that I was skeptical when I found these. I had a few options at Crate+Barrel, a few at Macy's, etc, but all of them were boring. These felt like my grandmother's old brocade towels, but hipper and more fitting for my current bathroom. I read the reviews, purchased them regardless of the few comments about their being not as fluffy as anticipated, and I will say that I am very happy with my purchase. The goldenrod color is a bright shade that offsets my black bathroom, and they are indeed fluffy towels. I was surprised, given the alternation of the cloth patterns, at just how absorbent they are. I've washed them a couple of times now, and I will say that they are holding up very well. For the combination of aesthetic value and quality, I am extremely pleased with my towel purchase.
13 septembre 2010
Coté

5

sur

5
par
Kristina
I purchased these in the white and love them. They are thick and the design is beautiful and really stands out for being white on white. They are soft and hold up really well after many washes. I think they will last a long time.
7 septembre 2009
Coté

1

sur

5
par
jinseattle
they don't work!
Unfortunately I have to return these towels. They are lovely to look at, but they don't work well as a towel. Only the floral part is terry cloth, so only about half the towel is absorbent. They don't dry you off well & for some reason they retain the water they do absorb for a long time so the towel still feels very wet the next day where my typical towels are dry. I was very excited when I bought because they look beautiful in my bathroom, but I can't justify buying such expensive towels JUST for looks, they need to be functional.
le 8 mars 2011
NEUTRE
700 g, coton
Lavable à la machine
Serviette de bain : 54 po long., 30 po larg.
Serviette à main : longueur de 30 po, largeur de 16 po
Débarbouillette : carré de 13 po par côté
Portugal
N° de style : 993101
Des roses tissées donnent un air de beauté intemporelle à ce doux tissu éponge en jacquard.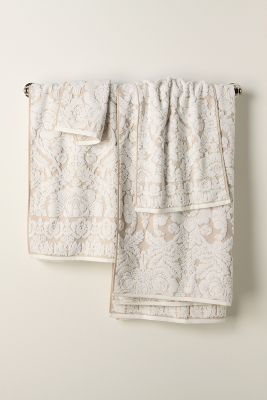 -->