Catégorie nulle
Serviettes fleurs perpétuelles
nul
Coté

4,4

sur

5

 par

110

les évaluateurs.
Coté

3

sur

5
 par
Jesl
I'll keep them
I bought these in red and I have to say, while they are still very pretty, I'm disappointed in them. They look so beautiful in the photo, but in person they look a little cheap. The design is beautiful, but instead of having a white background, which is what the photo looks like to me, it's actually just missing towel so you see that awkward hatching that towel without fiber has causing the color to be murky and not contrasty like pictured. I like the three dimensional effect, but with the towel hatching showing so much it just looks kind of ugly. For the price, I'd expect higher quality. Especially when many retailers are selling this exact design right now for much less. Also, the color is actually more of a blue red rather than the orangey red pictured.
8 janvier 2013
Coté

5

sur

5
 par
Criticsdarling
Fancy princess towel!
I bought the hand towel a year ago, which I drape over my sink's edge as decoration. I loved how it looked so much that I had to buy the full size towel. It's charming and adds some spice to my bathroom's blue and white themed style.
7 février 2012
Coté

4

sur

5
 par
RakishLass
Gorgeous
I bought these when I redid my bathroom, and I love them. The design is beautiful (I have the turquoise, and it just pops without being too overwhelming), they're soft, absorbent and a lovely size. I got the hand towels as well, which are also great. I didn't get the face cloth because I tend to destroy face cloths with cleansers and such, but I was tempted. These have stood up to washing, but do snag if my cats get near them or if they catch on an earring. That's my only complaint. I would love to have a few more, perhaps in several other colours for my new house! If you're looking for something both pretty and functional, this is a great option. Just be wary of the snag factor, and always wash them with just other towels and cottons.
Le 4 juin 2012
NEUTRE
700 g, coton
Lavable à la machine
Serviette de bain : 54 po long., 30 po larg.
Serviette à main : longueur de 30 po, largeur de 16 po
Débarbouillette : carré de 13 po par côté
Portugal
N° de style : 993101
Des roses tissées donnent un air de beauté intemporelle à ce doux tissu éponge en jacquard.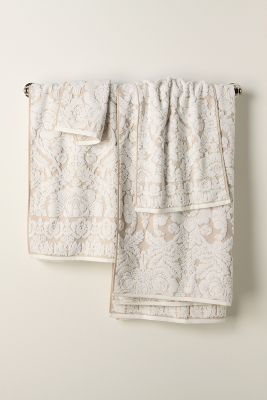 -->